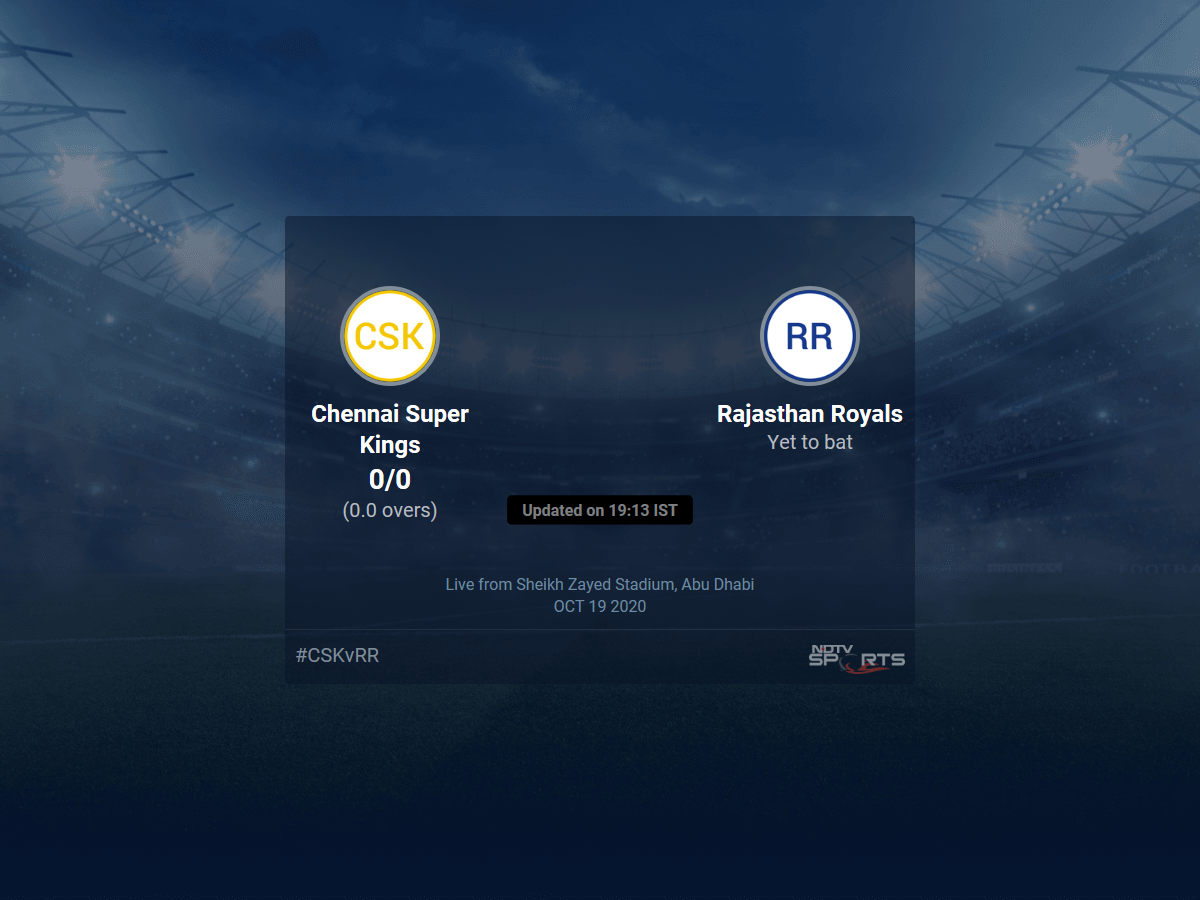 Follow the Indian Premier League 2020 live cricket score on Sports.NDTV.com. After 0.0 overs, Chennai Super Kings are 0/0. Get live score, ball by ball commentary and much more. Keep track of Indian Premier League 2020 today match between Chennai Super Kings and Rajasthan Royals. Everything related to Chennai Super Kings and Rajasthan Royals match will be available on Sports.NDTV.com. Stay updated with Chennai Super Kings vs Rajasthan Royals live score. Do check for Chennai Super Kings vs Rajasthan Royals scorecard. You can get scorecard updates, match related facts. Get quick live updates with ads, Sports.NDTV.com, which is the perfect destination for live cricket score.
RAJASTHAN PLAYING XI – Robin Uthappa, Ben Stokes, Sanju Samson, Steven Smith (C), Jos Buttler (WK), Riyan Parag, Rahul Tewatia, Jofra Archer, Shreyas Gopal, Ankit Rajpoot (IN FOR JAYDEV UNADKAT), Kartik Tyagi.
CHENNAI PLAYING XI – Faf du Plessis, Sam Curran, Shane Watson, Ambati Rayudu, MS Dhoni (WK/C), Ravindra Jadeja, Kedar Jadhav, Deepak Chahar, Piyush Chawla (IN FOR KARN SHARMA), Shardul Thakur, Josh Hazlewood (IN FOR DWAYNE BRAVO).
Rajasthan skipper, Steven Smith, says that Ben Stokes is fortunately okay and good to go. Smith tells that the equation is simple for them as they need to keep winning. Hopes that they bowl well first and then chase it down. Informs Rajpoot comes in for Unadkat.
Chennai skipper, MS Dhoni, says that the chances are the pitch would get slow and hence they want to bat. Informs Bravo will not be available for the next few games and tells it has been a concern not just them but for others as well as many players have not played regularly. Smiles and says he got to know it is his 200th game after Morrison told him. Tells he is fortunate to play so many games and thanks god as injuries were not a major concern in his career. Informs there are two changes in his side as Hazlewood comes in for Bravo while Karn Sharma makes way for Piyush Chawla.
TOSS – We are all in readiness for the spin of coin. Chennai skipper, MS Dhoni calls Heads and it comes down in his favour. CHENNAI OPT TO BAT!
PITCH REPORT – Daren Ganga and JP Duminy are out for the pitch report. Ganga says that it is the same pitch that was used yesterday. Says that the square boundaries and the boundaries down the ground are on the shorter length. Adds that it looks a lot drier than it was yesterday and that the bounce will be a little uneven. JP says that the shorter deliveries have been successful and as a batter, your batting on the square side has to be good. Adds that the middle period is the most important thinking point as to how to add runs in that period. Ganga says that 167 is the average score on this ground.
There is a big milestone for MS Dhoni! This will be his 200th game in the Indian T20 League and he becomes the first player to reach this feat. What a proud achievement for a player who has been there since the start of the League and is still standing strong, despite him being retired from the international arena. Will he celebrate this feat with a victory?
Hello and a warm welcome to the 37th match in the 2020 Indian T20 League and it is a face-off between Chennai and Rajasthan. These are two teams who are in desperate need of a win and they will be looking to play their best cricket if they want to make it to the playoffs. Chennai were dealt a big blow in their last game as Dwayne Bravo was ruled out for at least two weeks and it will be interesting to see who will replace him. Will Imran Tahir get a game finally? Rajasthan too have plenty of questions as who should open the batting? Surely, it will be Robin Uthappa. Will it be Ben Stokes or will it be Jos Buttler? Stay tuned to find out the answers.
Topics mentioned in this article